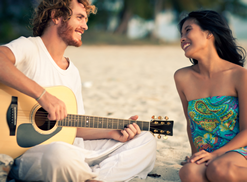 Am Lagerfeuer kann jeder Gitarrist auch mit wenig Erfahrung zum Star des Abends werden. Wichtig ist dabei, dass man das richtige Repertoire an Songs für Lagefeuer hat. Wir stellen dir die 20 besten Lagerfeuer Gitarrensongs vor:
Knocking on Heaven's Door – Bob Dylan
Stairway to Heaven – Led Zeppelin
Nothing Else Matters – Metallica
The Passenger – Iggy Pop
Wonderwall – Oasis
American Pie – Don McLean
Let It Be – The Beatles
Imagine – John Lennon
Wish You Were Here – Pink Floyd
Come As You Are – Nirvana
House of the Rising Sun – The Animals
Heart of Gold – Neil Young
Summer of '69 – Brian Adams
Blowin' in the Wind – Bob Dylan
Ring of Fire – Johnny Cash
Californication – Red Hot Chili Peppers
Country Roads – John Denver
No Woman No Cry – Bob Marley
Hotel California – Eagles
Angie – The Rolling Stones
Welche Songs hörst du am Liebsten am Lagerfeuer? Schreib uns deine Lieblingsklassiker im Kommentarfeld unten!
Kommentare
Noch keine Kommentare, sei der erste, der einen schreibt! :)
Was sagst du dazu?